A Pioneering Seedstock Farm
Founded in 1943 by pioneer Angus breeder, Loren Schlipf, Tree Lane Farms has a rich history in the purebred cattle business. One of the first to embrace black Simmental cattle Loren's son, Dale, used this Angus cow herd as a base to fulfill his vision for the operation. Today, Tree Lane Farms still focuses on raising quality seedstock in multiple breeds.
Loren Schlifp had a passion for kids and cattle and that is the foundation for how Tree Lane Farms operates today. Loren's son, Dale, inherited his father's innovative spirit and set out to make his own mark on the cattle business. While Angus cattle were the foundation, the farm was home to a few Simmental cattle in the 1970s. Dale appreciated the Simmental breed and sought to raise superior black Simmental genetics on their farm. He accomplished that feat in the late 1970s using the latest reproductive technologies, and trusting his intuition when buying cattle and making breeding decisions. Dale has now passed this methodology on to his son, Ryan, and the farm continues to see success with the quality of their cattle and for their customers.
While Angus and Simmental cattle have had the longest tenure at Tree Lane Farms, the operation also breeds and sells Red Angus and Charolais cattle.
Impact of Technology
The farm's focus has been purchasing the best donor quality females they can afford in all four breeds they work with, flushing those females, and putting eggs in recipient females on their farm and in cooperator herds. They then clean up with a purebred Simmental bull for a chance at raising half-blood Simmental females. The intense embryo transfer program in place allows Tree Lane Farms to produce a greater volume of quality cattle without drastically expanding the cow herd or overwhelming their resources.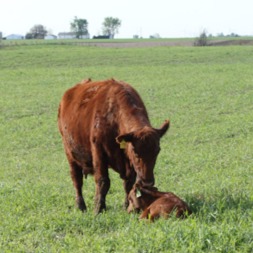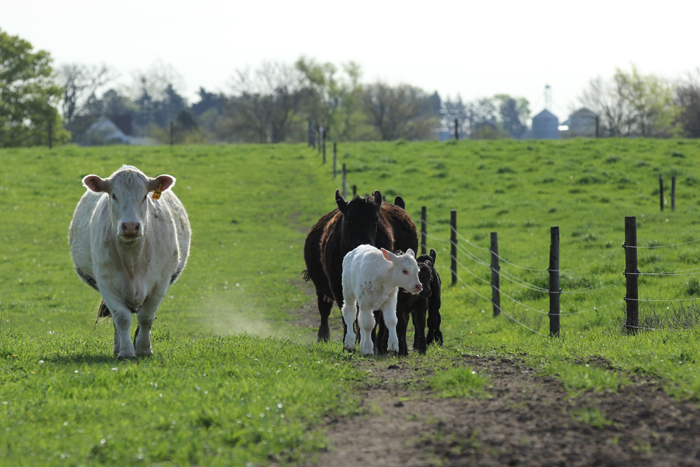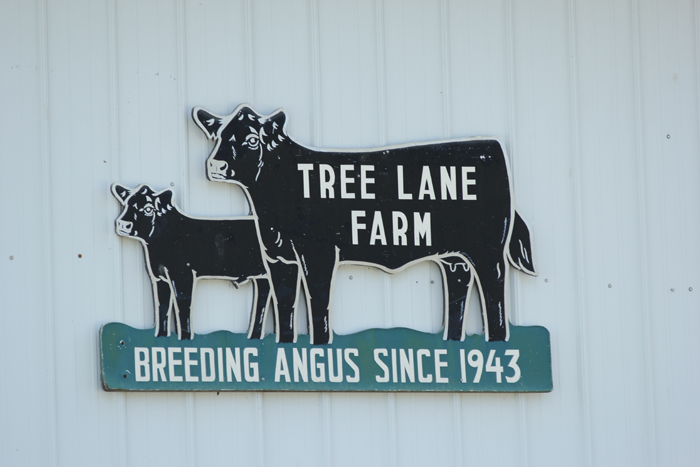 Marketing
The Schlipf family hosts four cattle sales a year, sometimes five. One of them is a production sale at the farm in November. The rest of the sales are online. Hosting multiple sales and offering quality cattle certainly doesn't go unnoticed by fellow cattlemen in Illinois. The long list of Schilpf family values has built a reputation of producing quality seed stock cattle that perform for their customers. Dale jokes that their family farm is like a Wal Mart - a one stop shop. Top quality seedstock cattle are born and raised in Illinois, and families are very competitive with junior programs and 4-H projects in the showring. These families often don't want their kids to compete against each other so they will buy a couple of heifers of different breeds. People might have intentions of attending a Tree Lane Farms sale to purchase an Angus heifer and end up leaving with a Simmental and Charolais too.
Family Success
Tree Lane Farms has certainly earned a reputation for raising quality seedstock, and that's something in which the entire family takes pride. Dale and Ryan work together to manage the cow herd, and Ryan's children have a strong interest in keeping the momentum going with the seedstock business. Dale noted that his son, Jared, followed in his grandfather's footsteps in a different way by continuing Loren's legacy in the sign making business. Jared's wood carvings of livestock are gaining a lot of recent attention. Dale and his wife, Vicki, also have four daughters that live close to the farm, and enjoy spending time with their 19 grandchildren.